What are Crystals?
Crystals are necessary to awaken your characters, they allows you to unlock passives and skills that can improve your strength in battle. Max level to awaken a character at the moment is 50, the higher the level the higher resources are required. They're six variations of color crystals and each character requires a certain color to be awakened.
| Blue | Purple | Green | Red |
| --- | --- | --- | --- |
| Yellow | White | | |
Where can I farm them?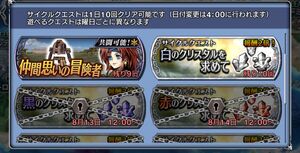 Crystal Dungeons is a dungeon that players are able to farm a large amount of crystals. They are also now combined with EXP dungeon, making it a great place to farm base levels for characters as well.
By going into the world map in the main menu, go into the vortex which is unlocked after completing Chapter 1, you now have access the vortex which contains Crystal Dungeons, Character Events, and Co-op challenges.
Crystal Dungeons cycle changes everyday that are limited to 10 runs per day, you can even do more with the access of Moogle Keys which unlock Crystal Dungeons for a duration of 30 min or 1 hr. Crystals can also be obtain in dungeons or certain objectives, but not as effective.
Crystal Dungeon Cycle
This cycle is according to JST time zone
| MON | TUE | WED | THUR | FRI | SAT | SUN |
| --- | --- | --- | --- | --- | --- | --- |
| | | | | | | |
How to Farm Crystals Effectively

Farming Crystals effectively is by using a Red Book in Crystal Dungeons. Red Books can be used in Support Items in the side menu.
What they can do is increases drop rates by double, enabling you to obtain more crystals to speed the process of awakening your characters.